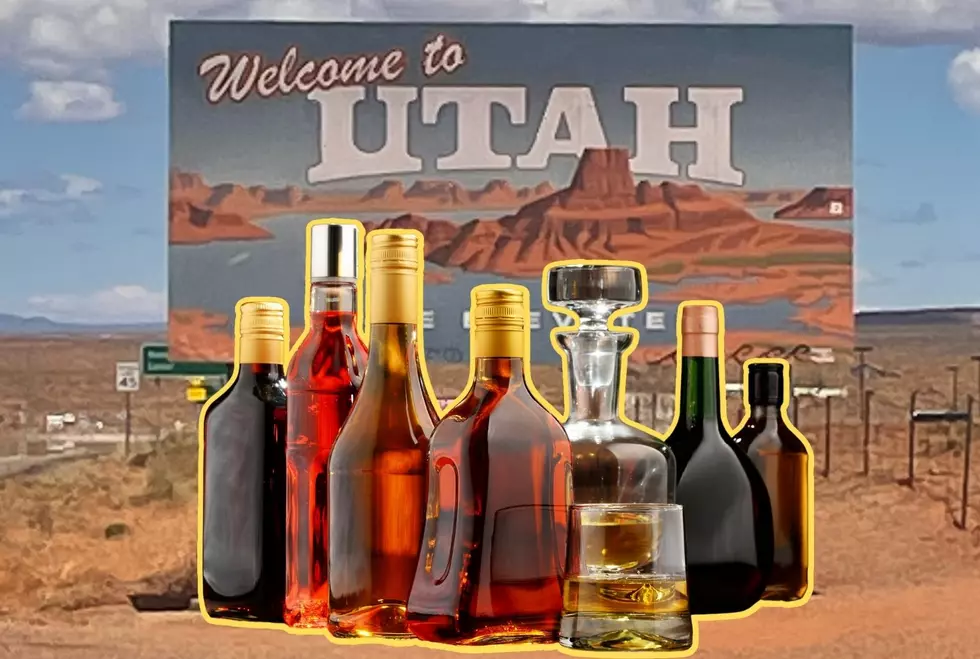 What You Need to Know About Utah's Liquor Laws
Nate Wilde / Getty Images / ThinkStock
Let's face it, being from Colorado and used to our laws, Utah can seem like a different planet sometimes despite being located right next door.
However, it can be a really nice place to visit with attractions like Moab, Arches National Park, and Monument Valley, to name a few.

One thing to keep in mind when visiting The Beehive State is the different laws they have concerning liquor. Plan your next visit to Utah accordingly and familiarize yourself with the state's liquor laws.
Utah Liquor Laws with Regard to Liquor Stores
One thing that sets Utah apart from Colorado is its laws regarding liquor stores. First of all, liquor stores have limited hours of operating with their doors only open Monday through Saturday and, for the most part, from 11 a.m. to 7 p.m. although some are open as late as 10 p.m. Liquor stores are also closed on all Federal and State Holidays.
In addition, Utah has liquor stores that are primarily run by the state in urban areas with licensed privately owned stores in more rural areas as well as places like ski resorts and hotels.
Liquor stores are also the only places in Utah where you can buy distilled spirits like whiskey, vodka, and rum, as well as most beer containing higher than 5% alcohol by volume.
Utah Liquor Laws with Regard to Restaurants and Bars
In Utah, there is a pretty concrete distinction between selling beer at a restaurant as opposed to a bar. For example, Utah restaurants require patrons to buy food in order to drink alcohol and only serve alcoholic beverages from 11 a.m. to 1 a.m. with food.
The main distinction between liquor licenses for restaurants and bars is the element of food. However, some restaurants and establishments like taverns, lounges, cafes, and bowling alleys obtain bar licenses in order to allow patrons to drink alcohol without ordering food.
Utah Liquor Laws Regarding Alcohol Percentage
Utah has some very specific laws when it comes to the percentage of alcohol allowed in a drink.
For example, mixed drinks sold at bars can only have 1/5 ounces of the drink's primary liquor and a total of 2.5 ounces or less of total liquor. Wine is also restricted to 5 ounces in volume.
Beer sold on tap at bars can be no more than 5% alcohol by volume which was changed from a 4% limit in September of 2019.
However, beers higher than 5% ABV can be purchased in bottles, cans, and to-go from bars.
Other Liquor Laws in Utah
Other laws regarding liquor in Utah include the prohibition of bottles smaller than 200ml with the exception of mini bottles sold in hotels and on airplanes.
You can bring alcohol across state lines into Utah but not more than nine liters at a time, and businesses are prohibited from purchasing alcohol from out of state.
You can bring a bottle of wine into a restaurant or bar with the approval of the business and typically an extra fee, and you can also bring alcohol into a limo, charter bus, or a party as long as it's in a paper bag.
Homebrewing is limited to 100 gallons of beer, wine, or cider per year for each member of the household brewing the beer that is 21 years of age or older, but distilling liquor is illegal in Utah.
Bring Your ID to Drink in Utah
Utah has strict laws requiring that you show identification at all times when purchasing or consuming alcohol. Valid forms of ID include a valid U.S. driver's license, valid passport, valid military ID with date of birth and photo, or an official U.S. state-issued ID card.
In addition, all forms of ID must be scanned prior to purchasing alcohol or even entering a bar or liquor store.
There you have it, Utah's liquor laws. Cheers!
Road Tripping From Grand Junction to Monument Valley
Check out all of the sights on a virtual trip from Grand Junction to Monument Valley, Utah.
All the Reasons Why You Need to Visit St. George Utah
Here are 50 of the top-rated things to do in St. George, Utah.
Grand Junction Area Brewery Locations and Featured Beers
Beer connoisseurs looking for a brewery in Grand Junction will appreciate all the delicious libations these breweries in Grand Junction offers.