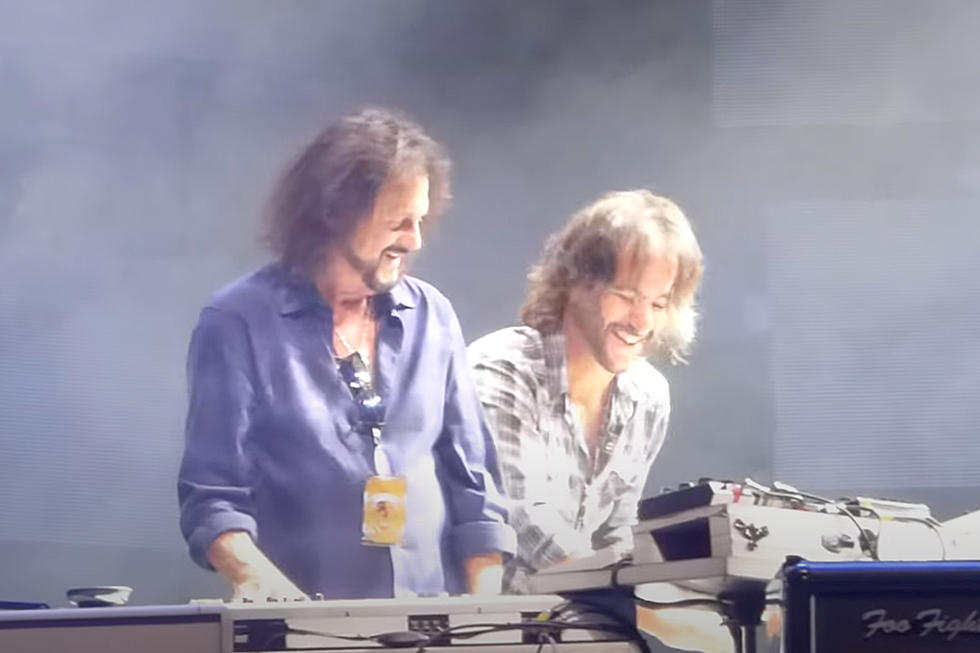 How Gregg Rolie Ended Up Jamming With Foo Fighters
YouTube
Foo Fighters concerts are often punctuated with an unexpected moment or two. The latest happened at the second weekend of the annual Austin City Limits festival on Oct. 14 when former Santana and Journey co-founder Gregg Rolie jumped on stage with the band. 
A free-form jam of Santana's take on the Tito Puente standard of "Oye Como Va" broke out and within seconds, the entire ACL crowd was on board.
So how did the two sides connect? Rolie's alliance with the band began taking shape recently after he and keyboardist Rami Jaffee made contact via Instagram and became friends. Jaffee reached out to Rolie in advance of their Austin appearance, making sure that the area resident had passes. But as Rolie tells UCR, he never thought in a million years that he'd wind up on stage – and in fact, placed a bet with his family that it wouldn't happen. "I lost a bet," Rolie said, with a laugh.
During a Zoom call a few days after the Austin gig, Rolie shared more details about the brief performance with the group.
Let's talk about how this thing with Foo Fighters happened in Austin.
Really, what happened is that I was backstage. Prior to the show, Rami took me over to this room where they had a keyboard set up, drums, bass, you know, backstage. He started playing "Oye Como Va." I jumped in and started playing it with him. We traded off and I thought that was it. I went to watch the show and as I was sitting there looking at the video in the video booth, somebody came up and said, "Hey, they want you up on stage. I said, "What are you talking about? Who wants me where?" [Laughs] I got up there and said, "What are we playing?" Rami started "Oye Como Va" and I thought, "Okay, I got this." It was a great experience. What I loved about it is how impromptu it was, which is Dave Grohl. He's been the champion for rock 'n' roll music for years, [saying that] this is not going to go away. He's proven that all over the world. It was an honor to be able to sit up there and do that.
READ MORE: A Complete Guide to Journey Lineup Changes
As a music fan, it was pretty great, watching you and Rami trade off behind the keys. It's always cool to see a couple of people who look like kindred musical spirits.
Yeah, I'm glad you said that. I knew about the Wallflowers and I loved the way he played. He's very much like I am. It's like, you're the glue to this stuff and you know when to throw it to make it more powerful. For the most part, you're just the glue to all of the guitars and that's it. That's what I've done all of my life. He was doing that same thing. The funny part about it for me is when we started soloing backstage, back and forth, it's like, "Yeah, I know exactly what you're doing and where you're going to go. I know what you're doing." And vice versa. Then, I watched him play with the Foo Fighters and I said, "This is exactly what I'd be playing if I was him in this band," which was uncanny to me. I'd never seen anybody approach it absolutely the same way. You know, you've got all of these guitars. Don't step on 'em. That's the gig!
Watch Foo Fighters Perform 'Oye Como Va' With Gregg Rolie in Austin
Watching you play with Foo Fighters demonstrated how universal the things you did with Santana have become. They play a snippet of the song and from the first organ riff, the people in the crowd are right there. That's an amazing feeling.
It is – and it's really hard to do. I told Rami, "What do you want?" He goes, "It's the same six guys, same two chords." You know, that's [a sentiment] stolen from Billy Gibbons. He got up on stage and said, "Hi, same three chords, same three guys. Here we go." Well, that's it. As a matter of fact, Frank Zappa, he goes, "Oh, the secret Santana chord progression, the one to the four. You can't miss it." It's hard to write stuff like that where it grabs everybody. Within two notes, you know what's going on. That's not that easy.
I know you've had a lot going on musically since you released the Sonic Ranch album in 2019. What are you working on presently?
I'm working on this stuff with my son Sean. We started out with the band name of New Sol. That's not dead yet. We've recorded [a lot of material]. There's 30 songs that we just keep working on, to make sure it's right. [We're] trying to get that out. That's what we've been doing, just staying in touch with everything. That's the next move, right here from Austin. I mean, I'm sitting in my backyard, basically. It's on top of a mountain and we have a studio here. That's where we work out of. It never ends. Music never ends for me. You know, I've said it a million times. It just never stopped. Music never stops, unless you stop it.
You had been working on some material with Deen Castronovo and Marco Mendoza. Is that stuff still in the mix?
Yeah, it is. There's so much stuff. I talk to Marco all of the time and it was great to play with Deen at the Austin show here with Journey. We played a half hour and that was great fun. Throwing "Black Magic Woman" at the end of it, people didn't expect it. That's what I like about it – and that's something that Grohl would do. He'd just throw it at 'em and if you don't like it, you know, I'll be back tomorrow. [Laughs]
READ MORE: Why Journey Stopped Making Videos
It was pretty bonkers to see you guys pull out "Of a Lifetime" at that Journey show in Austin.
It was good to do. Not many people can do it, right?
Right!
So there it was. Going back in time like that with Journey, it's almost like a music lesson for some people. One guy wrote about "Of a Lifetime," he goes, "What was that song? Should I know that?" You know, it was from the first Journey album. There's people that don't know it. They think it all started when [Steve] Perry got on board. No, no – we had three albums before that.
Watch Journey Perform With Gregg Rolie in Austin
I've always found it pretty fascinating what you were doing on those first three albums.
Basically, if we did it now, we'd be a jam band. We ended up playing music that was progressive, jazz, rock, whatever. It was all of that stuff without the percussion. Santana leaned towards that and we didn't do it that way, but that's what that music was. It's based on solos, a lot of the playing. When Perry came on board, it was about the vocals, which was great. For me, it was terrific. I learned a lot – writing music for that instead of writing it for the solo parts. But I still like both; I still try to do both. It's still got to get me off. You've gotta play.
It's interesting too that even a later song like "Lady Luck," from Evolution and the Perry era, showed that you guys could turn on the spirit of those early albums at any second.
Yeah, and it could be done again. As a matter of fact, playing in Austin, that's exactly what happened. It went right back to that. Neal [Schon] plays with me in a different way than he does with the band. It's always been true. He leans more on the blues side, because that's where I am. It's just there. I don't know how to explain it, it just does. Years of playing together, that's what happens.
I think that's something that's generally under-appreciated about Journey, the way the band could just jam and burn like that.
Yeah, it became a different animal. You know, "You've gotta have a hit, gotta have a hit." [Then] when AOR radio took a nosedive, it wasn't the same thing anymore. During the '80s and '90s, you could sell a lot of tickets and it was a massive amount of platinum records. But it all changed. It's a constant battle in this business. So playing live is everything. Going back to Dave Grohl and what the Foo Fighters are doing, in my viewpoint, that just has to continue.
They provide a good counterpoint to the ongoing "Rock is Dead" argument too.
I can actually [go back to] the days of Journey early on. [After] our three albums, disco was in. Somebody went, "You need to do a disco song" and we went, "I don't think so!" You know, that isn't us. So we stuck to our guns and look what happened. I bet Grohl heard some of the same kind of stuff and just went, "Sorry, no." It's not what they do. It's not what he does. It's not where he lives. Me neither. Same!
The Best Song From Every Journey Album
Singers may come, and singers most certainly may go, but some great songs remain.
Gallery Credit: Nick DeRiso
You Think You Know Journey?